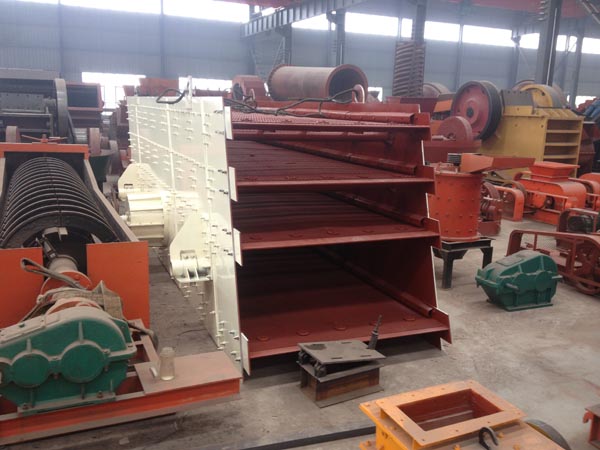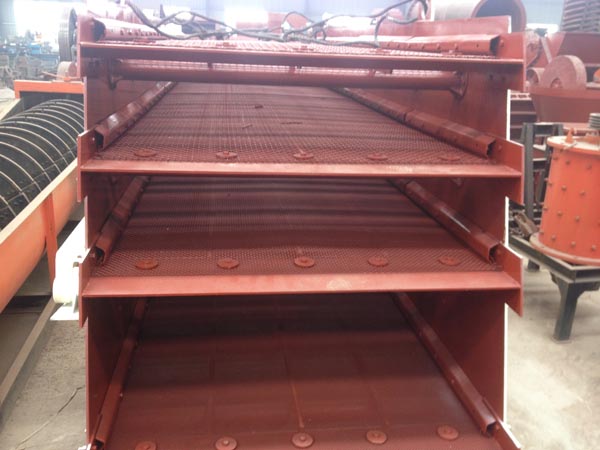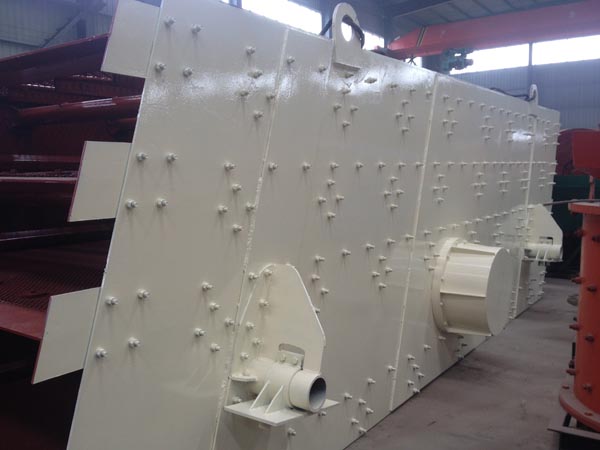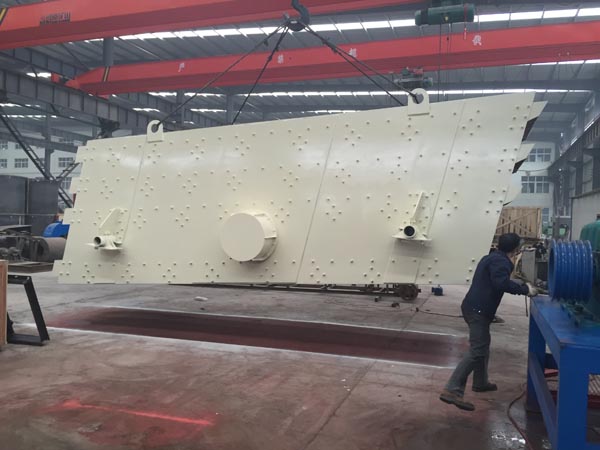 Vibrating screen
Vibrating screen is vibrated by the circling motion. The screen line of material is long and the screening specification is various. Every screen specification is clear. It adopts the tubbish vibrator and eccentric adjustment, with the feature of strong vibration, high screening efficiency and small vibrating noise. This machine is durable, easy to maintain, safe to use. So it is widely used in mining, construction material, transportation, energy and chemical industry for classification.
YK series Circular vibrating screen
The circular vibrating screen's movement locus is a circumference. The circular vibrating screen adopts cylinder type eccentric shaft vibrator and partial block to adjust the amplitude. The materiel sieve drip line is long and the screen specifications are more. It is designed especially for screening the raw rock in stone factory. The circular vibrating screen can also used for production classify in mine, construction, electricity, chemical industry. The screening machine has the features of reliable structure, strong exciting force, high screen efficient, low vibrating noise, simple maintenance and safe operation.
Linear vibrating screen
The screening machine is used to separate the stuff. It is composed of main frame, screen web, electric motor, eccentric bock, rubber spring, coupler and so on .We will offer suitable type according to your requirements. ZSG series of linear vibrating screens are widely applied to screen dry materials in Concentrator, building materials, water and power, light industry and building materials. The advantaged of this series screen are as follows: stable operation, lower energy consumption, low noise, high efficiency and long service life.
Vibrating screen operating principle
It adjusts the amplitude by tube-shaped violent vibration screen of eccentric shaft and eccentric blocks. The body moves like a circle, in order to make the materials screened.
Technical parameters of Circular vibrating screen
Model

Layers

Sieve Area
(m2)

Mesh Size
(mm)

Max Feeding Size
(mm)

Capacity
(m3/h)

Vibrating Frequency
(r/min)

Double? Amplitude
(mm)

Power
(Kw)

Weight
(kg)

2YK1235

2

4.2

5-50

200

35-180

970

7

5.5

3600

2YK1245

2

5.4

5-50

200

35-206

970

7

11

4320

3YK1245

3

5.4

5-50

200

35-206

970

8

11

4460

YK1535

1

5.25

5-50

200

34-200

970

8

11

3355

3YK1535

3

5.25

5-50

400

34-200

970

8

15

5710

YK1545

1

6.75

5-50

400

44-258

970

8

11

3900

2YK1545

2

6.75

5-50

400

44-258

970

8

15

4370

3YK1545

3

6.75

5-50

400

44-258

970

8

15

5832

3YK1548

3

7.2

5-50

400

47-275

970

7

15

6070

4YK1548

4

7.2

5-100

200

47-275

730

8

18.5

7090

YK1848

1

8.8

5-100

400

56-330

755

11

15

7122

2YK1848

2

8.8

5-100

400

56-330

750

11

15

6189

3YK1848

3

8.8

5-100

400

56-330

970

7

22

6935

2YK1854

2

9.72

5-100

400

63-586

970

7

22

7602

3YK1854

3

9.72

5-100

400

63-586

970

7

22

8640

4YK1854

4

9.72

5-150

200

32-310

12.16

8

30

10530

YK2154

1

11.3

5-100

400

73-683

730

8

18.5

5269

2YK2154

2

11.3

5-100

400

73-683

730

8

22

7851

3YK2154

3

11.3

5-100

400

73-683

730

8

22

9857

2YK2160

2

12.6

5-100

400

81-720

970

8

30

9240

3YK2160

3

12.6

5-100

400

81-720

970

7

30

12757

4YK2160

4

12.6

5-100

450

66-720

740

8

45

15125

2YK2280

2

17.6

5-150

400

90-750

730

8

30

10180

YK2460

1

14.4

5-150

400

150-810

730

8

22

6200

2YK2460

2

14.4

5-150

400

150-810

730

8

30

8013

3YK2460

3

14.4

5-150

200

450-650

740

8

37

10762

4YK2460

4

14.4

5-150

200

450-650

740

8

45

12786