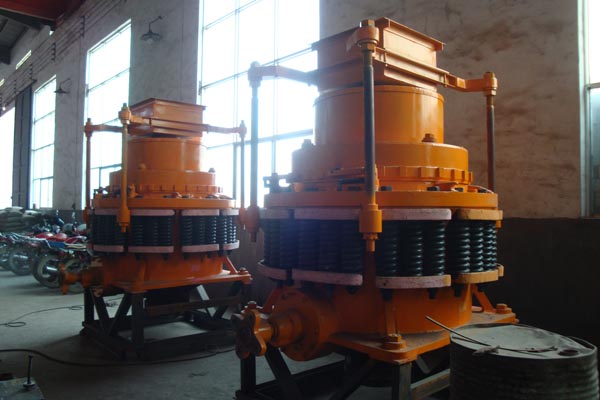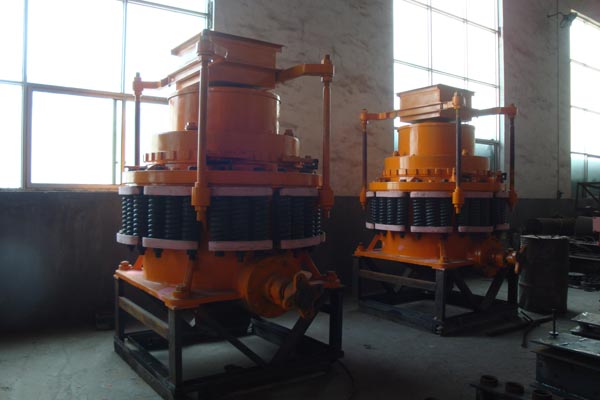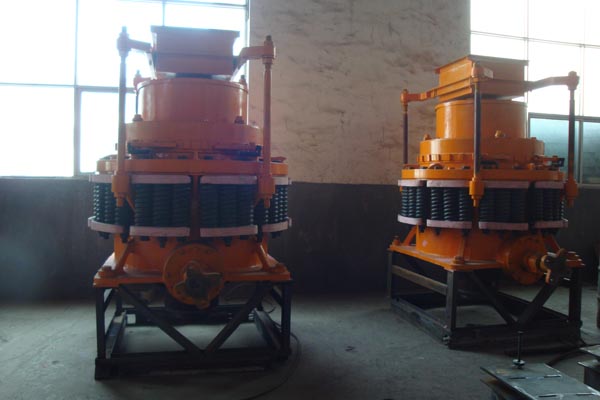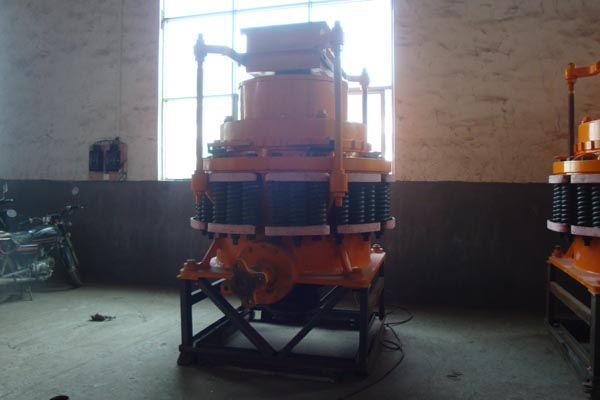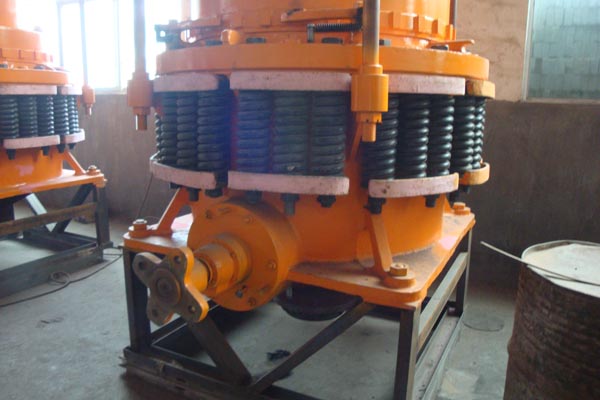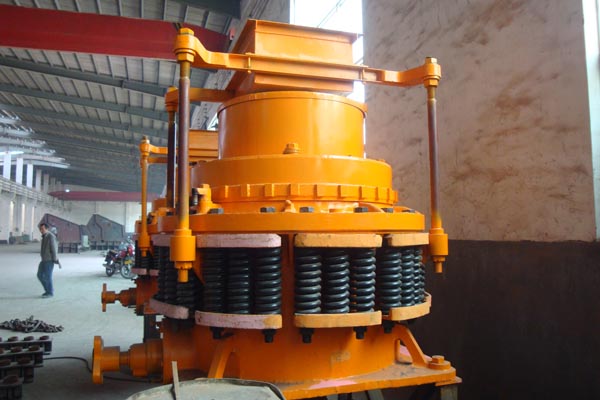 Cone crusher
This series of cone crushers are used for crushing ores and rocks, and the advantages are: reliable structure, high efficiency, easy-to-adjust and economical. There is Spring cone crusher, Symons cone crusher. The safety spring system is the overload protection device, which makes foreign material goes through the machine without bring any hurt to it. The sealing modes are oil and water, which segregate the stone powder and lubricating system. The crushing chamber is decided by the purpose of ore, the standard model is suitable for medium crushing; the medium model is suitable for fine crushing and the short head model is suitable for fine crushing.
Symons cone crusher structure
Cone crusher consists of frame, transmission device, hollow eccentric shaft, bowl-shaped bearing, crushing cone, springs and hydraulic pressure station for adjusting discharge opening.
Benefits and advantages of Cone crusher
1. Higher capacity and less wear costs.
2. Wide range of application suitability.
3. Easy to maintain, reduce the downtime and maintenance costs.
4. Stable running performance and easy operation.
5. Stable bevel wheel transmission device.
6. Balanced runout rotation ensures best capacity.
7. Proper operation, continuously load until the machine shut down scheduled.
Working principle of Cone crusher
When the Cone crusher is working, the motor drives the eccentric bearing bushing via spring coupling, transmission shaft and a couple of cone gear wheel. The crushing cone axis is forced to swing by the eccentric bearing bushing, which makes the mantle sometimes close to the bowl liner, and sometimes far away from the bowl liner. The raw materials are pressed, impacted and finally crushed in the crushing chamber.
One famous Cone crusher manufacturer
According to demand on rock cone crushers of customers, it is developed based on laminated crushing principle and conceptual design of "more crushing and less grinding"; thus this new type of cone crusher – Hydraulic cone crusher is integrated with high wobble frequency, optimal cavity shape and reasonable stroke. This series of efficient cone crusher has more reasonable and perfect structure and more advanced technology.
Technical parameters of Cone crusher
Model

Broken cone

diameter
(mm)

Max

feed

Size
(mm)

The width of

discharge opening
(mm)

Processing

T/h

Motor

Power

(kw)


Spindle

oscillation

times



Weight

(t)

Dimensions

(L × W × H)



Type

PYB

600

600

65

12-25

40

30

356

5

2234×1370×1675

PYD

35

3-13

12-23

5.5

2234×1370×1675

PYB

900

900

115

15-50

50-90

55

333

11.2

2692×1640×2350

PYZ

60

5-20

20-65

11.2

2692×1640×2350

PYD

50

3-13

15-50

11.3

2692×1640×2350

PYB

1200

1200

145

20-50

110-168

110

300

24.7

2790×1878×2844

PYZ

100

8-25

42-135

25

2790×1878×2844

PYD

50

3-15

18-105

25.3

2790×1878×2844

PYB

1750

1750

215

25-50

280-480

160

245

50.3

3910×2894×3809

PYZ

185

10-30

115-320

50.3

3910×2894×3809

PYD

85

5-13

75-230

50.2

3910×2894×3809

PYB

2200

2200

300

30-60

59-1000

280-260

220

80

4622×3302×4470

PYZ

230

10-30

200-580

80

4622×3302×4470

PYD

100

5-15

120-340

81.4

4622×3302×4470